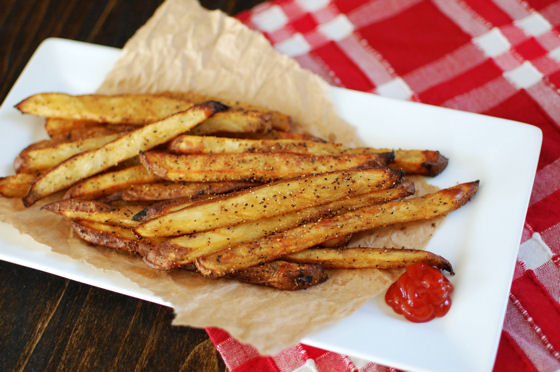 Ingredients
4 teaspoons olive oil
4 medium baking potatoes (1 1/2 pounds total), scrubbed
1/2 teaspoon salt
1/8 to 1/4 teaspoon freshly ground black pepper
1/4 cup grated Parmesan
Directions
Line a baking sheet with aluminum foil; brush with 2 teaspoons of the olive oil. Set aside.
Cut the potatoes lengthwise into 1/2-inch-thick wedges. Transfer to a large bowl. Add remaining olive oil; toss to coat. Sprinkle potato wedges with the salt and black pepper, tossing to coat. Arrange potatoes in a single layer on prepared baking sheet.
Bake in a 450-degree oven for 12 minutes. Turn potatoes; sprinkle with the Parmesan. Bake for 10 to 12 minutes more or until tender and golden
Nutrition facts per serving (8 wedges): 155 calories, 4g protein, 22g carbohydrate, 6g fat (1.5g saturated), 3g fiber.
Crunchy Cooking Tips
Numerous eateries twofold sear spuds to make them additional fresh. Get a similar outcome by heating up the cut potatoes for 2 to 3 minutes (to discharge dampness), at that point depleting, hurling with olive oil, and preparing.
The Peel Deal
Spare time and lift sustenance by keeping the skin on the potatoes. It contains no less than 50 percent of the root vegetable's fiber, says Devin Alexander, creator of I Can't Believe It's Not Fattening!
Cheddar Whiz
Mystery fixing Parmesan makes these fries taste wanton. It likewise includes a trace of salt, so you don't need to shake on a greater amount of the flavoring before you dive in.
Fat Fakeout
Our prepared fries have short of what 33% the fat you would get from a medium request at a cheap food joint.
Super Spuds
"Potatoes are not the foe," Alexander says. A little spud packs around 130 calories, no fat, 18 percent of your every day nutrient C admission, and more potassium than a banana.
Flavor Twist
Avoid the Parmesan and attempt these three goes up against the exemplary side dish.
Bean stew: Prep as above, including 1/2 teaspoon stew powder and 1/2 teaspoon paprika when you sprinkle with salt and dark pepper. In the wake of preparing, top each presenting with 1/2 glass low-sodium bean stew, (for example, Amy's Organic Light in Sodium Chili).
Garlic: Prep as above, including 1/4 teaspoon garlic powder when you sprinkle with salt and dark pepper.
Sweet Potato: Prep as above, substituting 4 medium sweet potatoes for heating potatoes. Rather than salt and dark pepper, sprinkle with 1/4 teaspoon ground cinnamon. Heat in a 425-degree stove for 20 to 30 minutes or until dark colored and delicate, turning once.